September 30th, 2011 by nanay
Preemies communicate often in ways other than crying. They do in fact cry to try to communicate a need, but they also have other ways of telling us they are in distress. These include hiccoughing, sneezing, and finger splaying. It took us a while to recognize that these things were signs of distress in Ben and instead found it cute when Ben sneezed, hiccoughed, or splayed his fingers. It probably has been making him even more stressed as he has come to realize that his parents find his stress cute. But look at the picture below of Ben with his splayed fingers. Isn't he just so darn cute? How can one look like that and actually be stressed?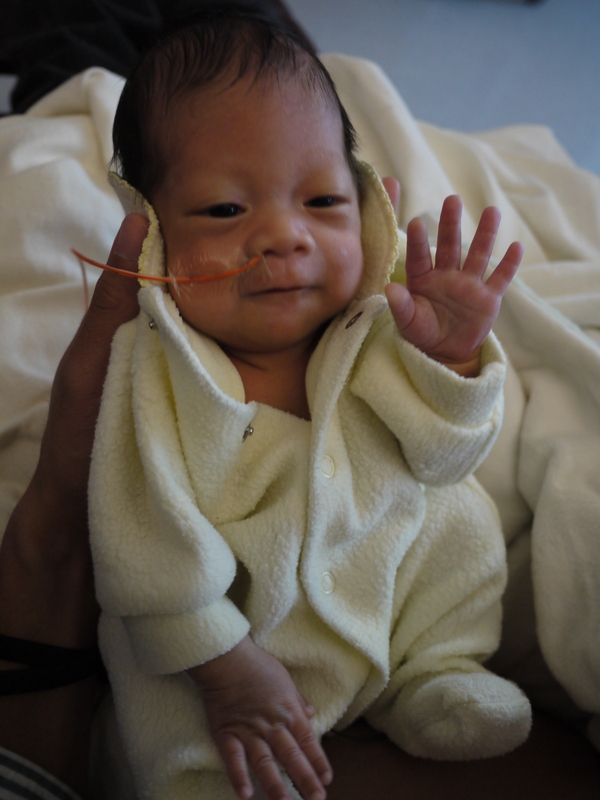 3 Responses to "Preemie Signs of Distress"
I thought that it was cute too that Ben seemed to be waving or ready to give a high-five … ohhhh…. hope that Ben is not too stressed. Wonder what he is trying to say in this pose? I have printed this exact photo 2 days ago and have it up on my desk where everyone at work were thrilled to see Ben.

Quality content is the secret to interest the people to visit the web page, that's what this site is providing.

Thankfulness to my father who informed me regarding this web site, this weblog is truly amazing.
Leave a Reply