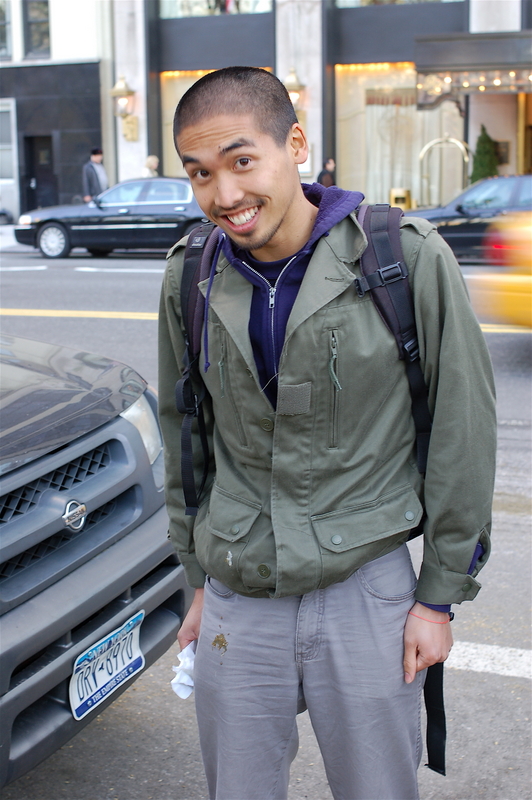 I attended an all-boys Jesuit high school in Manhattan named Regis, an experience that couldn't have been more incongruous with what Saved by the Bell promised me for years. Still, going to high school in New York City was memorable; taking Driver's Ed in Chinatown during rush hour is downright terrifying and smells delicious.

I loved being in Manhattan so much that I did my undergrad at Columbia. There, I earned a degree in biomedical engineering, a major I recommend highly. It's fascinating to see how many organ systems and tissues you can mathematically describe using simple DC circuit diagrams. And as a bonus, I found that my department was a national powerhouse in the assignment of macabre student projects; I once got to spend 3 continuous weeks modeling how many synthetic erythrocytes a hemorrhaging soldier would need for transfusion before he or she bled to death. Down on the Morningside range, I was also fortunate enough to get mentored by Chris Wiggins and Barclay Morrison III, who both taught me a lot about science gets done.
I spent my PhD thinking about how to leverage computational tools like hidden Markov models, and binary tree reconciliation algorithms against problems in evolutionary microbiology. I was particularly fond of microbial ecology and comparative genomics. With the help of my advisor Eric Alm, I graduated with a doctorate in Computational & Systems Biology from MIT in 2010.  I am presently a Junior Fellow at Harvard's Society of Fellows.  You can read more about my research at my academic webpage.

Now, those paragraphs were all very academics-centric (I cribbed them from an application I submitted some months ago). Here are some other things I enjoy and don't take place at school: tennis, squash, photography, backpacking, and travel. I also hang out a lot with my wife, Christina, and wish I could hang out much more with my little sister in Philadelphia, Stephanie.

In conclusion, if you've read this far, say hi in comments below or shoot me an e-mail on over to Ldavid AT mit DOT edu. It makes my day to get letters from strangers on the internet.
53 Responses to "About"
Hi Lawrence,

Please take good care of my daughter, Sonia, and make her wear a helmet when she rides her new bike or when she's rock climbing.

Thanks!

–her Dad

Dude,

California rules … and rumor has it EVERYONE thinks your "special" (hahah)!

See you in Feb,
-SA

Hey Lawrence,

What's up? Biomed engineer, eh? I ended up going Pre-Med at Penn State. Now I run a small motion-picture production company in Philadelphia Go Figure. One of us will need to find the cure for mankind–I'm glad you stuck with it!

Hello Just read your blog and it is fantastic, hope all goes well and you work out what you want to do!!! Thanks for all the useful info as well

Cheers

Nicholas

UK

I love your navigation menu at the top. What a great idea, I wish I was so clever.

Hey Lawrence,

Cool site. I really like the navigation header. Thanks for all your great tricks. As a quantitative geneticist, I can really relate to your efforts in computational and systems biology. Take care good luck.

lowell

Hey Dude, came across ur website while I was browsing the net. The navigation menu is awesome, gr8 idea. Keep up the good work.

Cheers,
Kailash

Hi Lawrence!,

i am a phd student in boston and after searching a ton of resumes, i found only yours useful! thanks a ton, i am going to use it.

-best,
harish.

Lawrence, I was captivated by your website and blog, especially about the symbiosis that forms bioluminescence in that adorable sea creature. I hope you don't eat any of them, please. They are just too precious. The basis for all this stuff, of course, is quantum. How the whole is made of wholes. It is the nature of all things. Nature is self-referential and fractal. Everything emerges from nothing. The whole is made of entangled correlates, opposites in this case. Please keep searching for your bliss and try not to worry about tax brackets. Peace. – Richard (Lawrence is my middle name, the second of three first names)

website hacks man. how did you customize your iweb so much for your groups site. I'm going to do it for my astrophysics group but am kinda new to web development in general. I have iweb but yours looks way better than anything like the templates.

on 27 May 2008 at 8:35 am Dave

Lawrence,

I found your blog searching for wordpress tips. Your top nav is just beautiful. Have you written anything about how to do it? I'm also aspiring to integrate my gallery2 into my site as nicely as you have.

I looked thru your tricks and didn't find anything about how you accomplished these nice programming steps – did I miss something? If not, please share!

Hey Lawrence,

I was checking out Eric Alm's website and stumbled upon your site – I met you as a prospective student visiting MIT back in April. I'm happy to say that MIT won me over completely – I'll be heading there this fall for the geobiology program through EAPS! I am ridiculously pumped. Any words of wisdom to offer an incoming student??

Hope you're well, Lawrence, and hope to run into you on campus sometime!

cheers,
Kate

Hey man, I stumbled across this site looking for matlab stuff. Props for the site man. Very cool. You cannot get more pro than music in the shower dictated by some random account holder over the net. Very impressed.

found your site googling for perl tips. the top menu is genius. love the music feed to your apartment. best personal site I've seen yet.

best of luck with school

hi!

i ended up here looking for latex tips for my thesis… and i spent more time reading your blog than trying the tips…

thanks for the tips, and for the reading

take care,

cristina.

Got some cool latex tips from your website, especially on how to singlespace itemized lists. Thanks.

Lots of useful other tips here too…guys like you who share their information freely are the backbone of open source…thanks

on 05 Sep 2008 at 6:08 pm lsi

it would be better with other languages support, but thanks..

on 30 Dec 2008 at 7:05 am Lucky

I m here by searching some thing for perl …..I m linking u to my blog !!!

Great work

Keep it up dude

Thanks
Lucky

great site!
keep on!!

Love the style of the links up top. I'm a currently very bored grad student from South Africa popping in to say hi. So… hi! Found your blog when I was searching for some python info. Thanks!

Great web page! Both the design and the context are fascinating.

on 02 Jul 2009 at 8:22 pm Kiaran

Hi Lawrence,

Found your website because I googled how to reverse python list. Then found myself reading your about me section.

Good luck on your PHD. Sounds like a very interesting field! I work at Bioware Corp making videogames. Usually use C++ but needed Python to patch some things up.

Best of luck!

Hi Lawrence,

I'm doing a phd in biophotonics. A similar experience to the posts above, I found your website while looking help in Matlab. I also really like your link icons. is it difficult to do? I'm trying to create a website which has a minimal animations for a clean for-the-eye sake. However I'm really drawn to your idea. Help or suggestion would be highly appreciated.

Regards,
Pop

on 25 Sep 2009 at 5:04 am steve

Lawrence-

Stumbled upon your site while looking for info about upgrading my mac's OS.

What a great site! I'm bookmarking it and plan to check it out later when I have time.

Take care!

-steve

Hi Lawrence,

My name is Carlo and I'm an undergrad at Wesleyan University, in Middletown, CT. I'm just posting to let you know that I'm working with your AdaptML program for bioinformatics research I'm doing over here. As a computer scientist with some interest in graduate school in the future, I also find your website very inspiring! Keep up the great work!

Hi Lawrence!

Great site!
I am just wondering if somehow you have Filipino blood or something.

Keep those neurons working!

best,
wilmarc

I just cribbed how to assign a variable from a command output in bash, thanks!

Nice site, good luck with the PhD.

great site Lawrence! I had a great time speaking with you at the BE retreat. Looking forward to future conversations =).

Lawrence! It was great riding back from the BE retreat with you and Robbie. The conversation was truly insightful. Good luck finishing your thesis work and with your Society position at Harvard!

First not boring page which helped to solve my LaTeX problem. On the other hand, I've spent here more time than I intended.:)
This is one "Hi!" from Czech girl recently in Denmark.

Hey Lawrence,

great page! Thanks a lot for your tutorial on MySQL/Matlab, it really made my day (And saved me about 10 hours of work, I guess…)

Have a nice day,

Martin

on 17 Jun 2010 at 1:10 am Jason

Nice man! Thanks for the matlab tutorials! I love to know little tricks. I visited MIT recently with my gf, I love Boston. You are one creative dude! I did the whole engineering route at PSU, also, finished with a Masters in EE. I recommend engineering to everyone. Now, after 6 years working, thinking to head to law school. Keep up the tutorials!

Your cyberspace fan
Jase

Cool navigation menu at the top!

I'm bookmarking your site under my "Cool Website Design" folder. I hope to try it.

http://desk.stinkpot.org:8080/tricks/index.php/2008/03/select-a-destination-blank-in-mac-os-x-leopard-installer/

Thank you… thank you … thank you.. thank you. I have been pulling my hair out trying to figure out why my boss' macbook won't see the new hard drive. Now I get it. Thanks again. If you ever find yourself in Wash DC let me know… I owe you a cold beer for sure!

thanks for the MATAB tips!

I have come across this site during multiple, unrelated help searches… and each time you have solved my problem! thanks!

karl

on 22 Dec 2011 at 9:59 am lo

Hey Lawrence,

Good day!

=Malaysia

Hey Lawrence!
Good Day!

Jiayi

Being a New Yorker myself, I found this line to be very funny…

"taking Driver's Ed in Chinatown during rush hour is downright terrifying and smells delicious."

I'd say that just about sums it up..!!

The real trick is to drive thru Chinatown and Not stop to get something to eat.

on 14 Sep 2012 at 1:21 pm Evert

Found this site by looking for a way to print from the commandline in OS X, but this is one one of the most interesting about page I read to this date.

Cheers!

You've got a problem here:

Fatal error: Call to undefined function get_tricksbar() in /var/www/tricks/wp-content/themes/mistylook-101/tricks.php on line 142

Dear Stinkpot,

I enjoyed your website – which I stumbled upon when looking for a matlab regex example. I will ask my unix security gooroo to try and crack your shower. If you find yourself listening to seventies music, then you've been comprimised! Haha.

Best Regards
Broooce

Found your site while browsing for shell scripting tips, motivated to click on the "about" link by your navigation menu, inspired to leave a reply by what I read. Never done this before in my 10 years scouring the web for programming tips and tricks. Nice work!

I'm currently learning to use your Software-AnGST and found your personal website here. Your website is really full of 'fresh air'.

All the best!

HI, I found your tips on "how to place multiple images in latex?" very useful. Thanks for the same.

Hi, from RWTH Aachen in Germany.
I just stumbled upon argmax in latex. Have a nice day!

Hi,
Python tips are great.

That is very attention-grabbing, You are an excessively skilled blogger. I have joined your feed and look forward to in search of extra of your wonderful post. Also, I've shared your site in my social networks

Thanks for the concepts you share through this website. In addition, numerous young women exactly who become pregnant do not even aim to get health care insurance because they are full of fearfulness they wouldn't qualify. Although a few states now require insurers give coverage irrespective of the pre-existing conditions. Prices on these kinds of guaranteed plans are usually higher, but when thinking about the high cost of health care it may be the safer way to go to protect one's financial future.

Thanks for the concepts you write about through this web site. In addition, many young women who seem to become pregnant will not even try to get health insurance because they have anxiety they won't qualify. Although some states at this point require insurers present coverage regardless of pre-existing conditions. Charges on these kinds of guaranteed programs are usually greater, but when considering the high cost of medical care bills it may be a new safer approach to take to protect the financial future.

Thanks for the tips you reveal through this web site. In addition, quite a few young women who seem to become pregnant never even try and get health insurance because they have anxiety they probably would not qualify. Although some states right now require that insurers produce coverage no matter the pre-existing conditions. Charges on all these guaranteed options are usually larger, but when with the high cost of health care it may be any safer route to take to protect a person's financial future.

I quite like reading through a post that will make people think. Also, many thanks for allowing for me to comment!

Hi there to every , since I am truly keen of reading this webpage's post to be updated on a regular basis. It includes nice data.
Leave a Reply