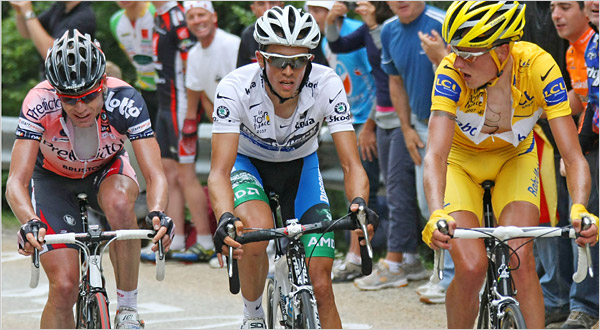 frank fife/reuters
apparently, synthetic drugs aren't the only banned substances at the tour de france:
Through the first 12 stages of the Tour de France, at least 10 riders have been cited for violating Articles 12 and 29 of the cycling code, regarding correct comportment on the race course. According to the citations, the riders "satisfied nature's need in front of the public." The cost was 100 Swiss Francs per rider, or roughly $83.
apparently, tour riders have chafed under these restrictions:
David Zabriskie, a native of Salt Lake City who rides for CSC, was also fined for his actions during the third stage. He said he understood that it was not appropriate to be "hanging out in front of the fans," but added, "The problem is that in the Tour de France, it's hard to find a stretch of road with nobody on it."
still, riders persevere:
"What's really stressful is when you have to go from the bike" while it is moving, Zabriskie said.

That maneuver is performed by hiking up one leg of the bike shorts and pivoting the hips sideways to allow for relief. Sometimes a rider's teammate will help steady his handlebars during that maneuver, making sure he is upwind.
god i love the new york times.
Leave a Reply